Press Release: Seventeenth Population Health Colloquium Video Content and Training Program Now Available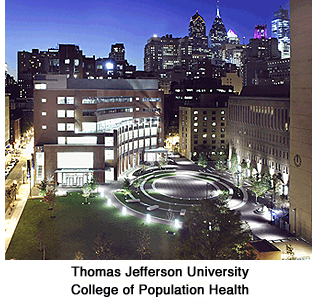 A Hybrid Conference and Internet Event
The Leading Forum on Innovations in Population Health
Sponsored by Jefferson College of Population Health
Cosponsored by Population Health Alliance
Media Partners: Harvard Health Policy Review, Health Affairs, Accountable Care News, Medical Home News, Population Health News and Population Health Management
Held March 27 - 29, 2017
Onsite at Loews Philadelphia Hotel, Philadelphia, PA
Online in Your Own Office or Home Live via the Internet with 24/7 Access for Six Months
PRESS RELEASE
Phone: (800) 503-7439
Email: registration@hcconferences.com
Website: www.PopulationHealthColloquium.com
THE 2017 SEVENTEENTH POPULATION HEALTH COLLOQUIUM CONTENT
IS NOW AVAILABLE IN VARIOUS POST CONFERENCE FORMATS
The 2017 Seventeenth Population Health Colloquium conference content is now available in a variety of formats.

You may now purchase the packaged Population Health Training Program, which includes preconference readings, the conference video with synchronized PowerPoint presentations and the post conference online exam. This content is perfect for corporate compliance training programs and can be purchased at deep group discounts.

Alternatively, you may purchase just the Colloquium streaming content in the following formats: Flash Drive or online archive (6 months). You may also purchase individual presentations in an online archive (6 months) format.
THE COMPLETE ONLINE POPULATION HEALTH TRAINING PROGRAM IS NOW AVAILABLE

Includes:

Background readings (available online)
Streaming Video of entire Population Health Colloquium with synchronized PowerPoint presentations (6 months of access - 24/7)
Online examination with certificate of completion

Purchase individually for $595
Or license multiple seats as follows:

5 or more for $495 each
10 or more for $395 each
15 or more for $295 each
20 or more for $195 each
YOU CAN PURCHASE JUST THE 2017 SEVENTEENTH POPULATION
HEALTH COLLOQUIUM CONTENT AS FOLLOWS:


Online Archive of 2017 Population Health Colloquium Presentations today!
Complete conference: $195
Order Now

Online Archive of 2017 Population Health Colloquium Presentations today!
$195
Order Now
PHILADELPHIA PA USA -- HEALTHCARE UPDATE NEWS SERVICE™ -- JUNE 1, 2017: The Seventeenth Population Health Colloquium, www.PopulationHealthColloquium.com, was be held March 27 - 29, 2017 at the Loews Philadelphia Hotel, in Philadelphia, PA. The conference content and training program are now available for purchase.
KEYNOTE SPEAKERS


Jeff Arnold
Chairman and Chief Executive Officer, Sharecare, Atlanta, GA

Richard Bankowitz
Executive Vice President, Clinical Affairs and Center for Policy & Research, America's Health Insurance Plans, Washington, DC

Allison Brennan, MPP
Vice President of Policy, National Association of ACOs, Washington, DC

Joseph F. Coughlin, PhD
Founder and Director, MIT AgeLab, Massachusetts Institute of Technology, Cambridge, MA

Gregory Dorn, MD, MPH
President, Hearst Health, South San Francisco, CA

Michael J. Dowling
Chief Executive Officer and President, Northwell Health, Former Senior Vice President, Empire Blue Cross and Blue Shield, Former Director, New York State Department of Health, New York, NY

Chris Hunter, MBA
Senior Vice President and Chief Strategy Officer, Humana, Inc., Louisville, KY

Stephen K. Klasko, MD, MBA
President and Chief Executive Officer, Thomas Jefferson University and Jefferson Health, Philadelphia, PA

Gerald Meklaus, MHSA
Partner, NA Clinical and Health Management Services, Accenture, Philadelphia, PA


Lisa Simpson, MB, BCh, MPH, FAAP
President and Chief Executive Officer, AcademyHealth, Deputy Director of the Agency for Healthcare Research and Quality, Washington, DC

Kent Thiry, MBA

Chairman and Chief Executive Officer, DaVita, Inc., Denver, CO


Donato J. Tramuto
President and Chief Executive Officer, Tivity Health; Founder, Health eVillages, Nashville, TN

Tom Zajac
Chief Executive Officer and Business Group Leader, Population Health Management, Philips, Alpharetta, GA

FEATURING PLENARY SESSIONS:

The Future of Managed Care
From the Front Lines: Continuous Health Strategies to Enable PHM Success
Good Health is Good Business: The Results of an Innovative Alignment with Physicians and Communities
APM's, MACRA/MIPS: The Provider's Perspective
Population Health Leaders Panel
Leadership Principles in a Changing Environment
"Stone Soup" and Other Analogies for Building Community through Collaboration
Building a Better Future
Health Leaders Panel






MINI SUMMITS:

Advancing Interoperability Across Care Settings
Executive Perspectives on the Transformation to Value-Based Care
The "Ultimate Game Changers" Game -- How Will Healthcare Change in 2017
If you Think Patient Data is about Wearable Devices, You're Wrong
Health Systems and Pharmaceuticals: Best Practices for Population Health




AND CONCURRENT SESSIONS:

Developing and Executing a Population Health Strategy
Using Population Health to Meet Community Needs
Science, Innovation and Discovery
Patient Engagement and Communication
Predictive Analytics and Technology




POPULATION HEALTH LEADERS


Madeleine Biondolillo, MD
Vice President, Quality and Safety, Premier, Inc., Charlotte, NC

Ronald Greeno, MD, FCCP, MHM
Senior Advisor for Medical Affairs, TeamHealth, North Hollywood, CA

Saranya Loehrer, MD, MPH
Executive Director Vice President, North America Strategy and Operations, Institute for Healthcare Improvement (IHI), Houston, TX

Rita Numerof, PhD
President, Numerof & Associates, Inc., St. Louis, MO

Mary O'Dowd, MPH
Executive Director, Health Systems and Population Health Integration, Rutgers Biomedical and Health Sciences, New Brunswick, NJ

Jennifer J. Schneider, MD, MS
Chief Medical Officer, Livongo; Former Chief Medical Officer, Castlight Health, Mountain View, CA


Terri Steinberg, MD, MBA
Chief Health Information Officer, Vice President, Population Health Informatics, Christiana Care Health System, New Castle, DE

Anthony Wehbe, DO, MBA, FACOI
Chief Population Health Executive, Kennedy Health Alliance, Voorhees, NJ

FEATURED FACULTY


Tim Van Aken
Health IT Lead, Kameleon Partners, Voorhees, NJ

Paul Alper, BA
Chairman, The Electronic Hand Hygiene Compliance Organization (EHCO); Vice President Patient Safety Strategy, DebMed, Charlotte, NC

Clay Alspach, JD
Principal, Leavitt Partners, Implications for Health Care under the New Administration

Vikas Arya
Principal of Strategy, xScion Solutions, Gaithersburg, MD

Stuart Baker, MD
President, Navvis and Company, Ballwin, MO

Andrew Baskin, MD
Quality and Clinical Policy, Aetna

David Berkowitz, FACHE
Vice President, Healthcare Insights & Analytics, ECRI Institute, Plymouth Meeting, PA

Jennifer Bolduc, MD
Principal Clinical Advisor, Office of Strategy Management and Marketing, Allscripts, Burlington, Vermont

David Chess, MD
Chief Medical Officer and Co-Founder, TripleCare Senior Health Initiative Sponsored by AARP

Vivian H. Coates, MBA
Vice President, Information Services and Health Technology Assessment, ECRI Institute, Plymouth Meeting, PA

Jeff Cohn, MD, MHCM
Common Practice, Medical Director, Former Chief Quality Officer and Patient Safety Officer, Einstein Healthcare Network, Philadelphia, PA

Francis R Colangelo, MD, FACP
Chief Quality Officer, Premier Medical Associates, Murrysville, PA

Michael J. Consuelos, MD, MBA
Senior Vice President, Clinical Integration, The Hospital and Healthsystem Association of Pennsylvania, Harrisburg, PA

Barbara A. DeBuono, MD, MPH
Vice President, Clinical Strategy and Value Based Care, 3M Health Information Systems

Ronald Dixon, MD, MA
Creator and Director of the Virtual Practice Project, Massachusetts General Hospital, Boston, MA

Jeff Dobro, MD
Chief Medical Officer, RedBrick Health, New York, NY

Kimberlee Douglas, RLA, ASLA
Director and Associate Professor, Landscape Architecture Program, Director, Lab for Urban and Social Innovation, College of Architecture and the Built Environment, Philadelphia University, Philadelphia, PA

Karen Drenkard, PhD, RN
Senior Vice President/ Chief Clinical Officer and Chief Nurse, ONeil Center at GetWellNetwork Inc., Bethesda, MD

Annette DuBard, MD, MPH
Former Chief Health Information Officer and Senior Vice President for Population Health Analytics, Community Care of NC, Raleigh, NC

Esther Dyson
Executive founder, Way to Wellville, New York, NY

Martin Entwistle
Executive Director, Personalized Healthcare Programs, Sutter Health, San Francisco, CA

Herb Fillmore
Senior Director of Population Health and Strategic Innovation, 3M, New York, NY

Jerome H. Finkel, MD, MHA, FACP
President and Chief Executive Officer, Alliance Health; Medical Director, Greater Macomb Physician Hospital Organization; Regional Medical Director, Henry Ford Physician Network, Mt. Clemens, MI

Maureen Fogle, EdD, RN, NE-BC
Director, Nursing Administration Central Division, Carolinas Medical Center –Mercy, Carolinas Healthcare System, Fort Mill, SC

Daniel Foltz
President and Managing Director, Parnassus Consulting, Ardmore, PA

Toby Freier
President, New Ulm Medical Center, Vice President, West Region Community Hospitals of Allina Health, New Ulm, MN

Scott M. Frisch
Executive Vice President and Chief Operating Officer, AARP, Washington, DC

Susan Frostén, RA, LEED AP BD+C
Associate Provost, Associate Professor, College of Architecture and the Built Environment, Philadelphia University, Philadelphia, PA

Michael Fuccillo, PhD
Chief Science Officer, Wellth, New York, NY

Peggy Grant, PhD
Director, Innovation & Performance Improvement, Community Regional Medical Center, Fresno, CA

Kyle Grate
Assistant Vice President, Orthopedic Service Line, AMITA Health, Chicago, IL

Scott Guerin, PhD
Senior Director of Government Policy Systems and Analytics, The Access Group, Berkeley Heights, NJ

Luke Hansen, MD
Vice President and Chief Medical Officer for Population Health, AMITA Health, Chicago, IL

Drew A. Harris, DPM, MPH
Director, Health Policy and Population Health Programs, Jefferson College of Population Health, Thomas Jefferson University, Philadelphia, PA

Amy Nguyen Howell, MD, MBA, FAAFP
Chief Medical Officer, CAPG, the Voice of Accountable Physician Groups, Los Angeles, CA

Erik Johnson, MBA
Vice President and Practice Lead for Value-Based Care, Optum, Washington, DC

William Kassler, MD, MPH
Deputy Chief Health Officer and Lead Population Health Officer, IBM Watson Health, Manchester, NH

Joseph Lamantia, MHA
Chief of Operations for Population Health, Stony Brook Medicine/Suffolk Care Collaborative, Hauppauge, NY

Deborah B. Laughon, MSN-ED, MSA, DBA, RN CCRN CENP
Director of Professional Development and Clinical Excellence, Florida Hospital Celebration Health, Orlando, FL

Al Lewis, PhD
Independent Validator, Validation Institute; Chief Executive Officer, Quizzify, Wellesley, MA

Chris Long
Executive Vice President and Chief Operating Officer, AxisPoint

Rose Maljanian, PHA
Chairman of the Board, Chairman and CEO HealthCAWS Population Health Stakeholders United

Julie Mann
Regional Vice President, Optum Analytics, Syracuse, NY

Susan M. Mann
President, 1889 Foundation; President, Conemaugh Health Foundation, Johnstown, PA

Anne Marie Mauro
Vice President, Northeast Client Region, Optum, West Chester, PA

Mike McAfee
Associate Vice President of Technology Solutions, Population Health, Allscripts, Pittsburgh, PA

Sean McManamy
Senior Vice President, Health Fitness

Russ Mohawk
President and Chief Executive Officer of Health Plans and Population Health Services, Inova Health Systems, Falls Church, VA

Paul Nutting
President, Tapcloud, Chicago, IL

Mary Jane Osmick, MD
Executive Vice President and Medical Director, American Specialty Health

Norma A. Padron, PhD, MPH, MA
Associate Director, Center for Population Health Research, Lankenau Institute for Medical Research; Assistant Professor, Jefferson College of Population Health, Thomas Jefferson University, Philadelphia, PA

Betty Rabinowitz, MD, FACP
Chief Executive Officer, EagleDream Health, Rochester, NY

Linda K. Riddell, MS
Independent Validator, Validation Institute; Principal, Health Economy LLC, Cape Elizabeth, ME

Tom Riley
Chief Executive Officer, Tapcloud, Northbrook, IL

William Riley, PhD
Professor, School for the Science of Health Care Delivery, Arizona State University, Former CEO, Pacific Medical Center, Former CEO, Aspen Medical Group, Tempe, AZ

Harm Scherpbier, MD, MS
Chief Medical Officer, Philips Wellcentive; Adjunct Professor, Jefferson College of Population, Philadelphia, PA

Brenda Schmidt
Founder and CEO, Solera Health

Congresswoman Allyson Y Schwartz
President and Chief Executive Officer, Better Medicare Alliance

Victoria Shapiro, JD
Vice President, Health Policy, UHG

John Sory
Chief Executive, UHealth Regional Alliance, University of Miami

Richard Stefanacci, DO, MGH, MBA, AGSF, CMD
Chief Medical Officer, The Access Group; Jefferson College of Population Health Faculty, Berkeley Heights, NJ

Lisa Stewart
Engagement Officer, PCORI, Public and Patient Engagement, Washington, DC

Ellen Swartwout, PhD, RN, NEA-BC
Vice President/Research and Analytics, O'Neil Center at GetWellNetwork, Bethesda, MD

Phil Traylor
Managing Director, KMC Solutions, Chicago, IL

Angie Truesdale
Chief Executive Officer, Centering Healthcare Institute, Former Vice President, Public Policy, National Hospice and Palliative Care Organization, Former Director, Federal Government Affairs, American Diabetes Association, Boston, MA

Richard Vazquez, MD, FACS
Chief Executive Officer and Chief Medical Officer, SafeStart Medical Inc., Chicago, IL

Sandeep Wadhwa, MD, MBA, SVP
Care and Delivery Management, Noridian Healthcare Solutions LLC

Lambert van der Walde
Executive Director, Center for Health Reform & Modernization at UnitedHealth Group (invited), A Think Tank Perspective on Population Health

Susan Walsh, MD
Vice President Population Health, Medical Director, ACO, Department of Medicine, Jersey City Medical Center- Barnabas Health, Jersey City, NJ


Lawrence Ward, MD
Vice Chair for Clinical Practice and Quality, Thomas Jefferson University, Philadelphia, PA

Mark Wendling, MD
Executive Director, Lehigh Valley Physician Hospital Organization/Valley Preferred, Allentown, PA

Eric Widen
Chief Executive Officer, HBI Solutions, Palo Alto, CA

Natalia Wilson, MD, MPH
Clinical Associate Professor, School for the Science of Health Care Delivery, Faculty, Barrett the Honors College, Arizona State University, Tempe, AZ

CHAIR

David B. Nash, MD, MBA, FACP
Dean, Jefferson College of Population Health, Thomas Jefferson University, Philadelphia, PA


ACADEMIC PARTNER




COSPONSORED BY



GRANTORS
DIAMOND



PLATINUM





GOLD





SILVER







BRONZE













ADDITIONAL











CONTINUING EDUCATION CREDITS
Accounting Professionals: Approved for up to 18.00 NASBA CPE credits.

Click here for more information.


POPULATION HEALTH
TRAINING PROGRAM

The National Population Health Colloquium is offering a Training Program, sponsored by the Jefferson College of Population Health, in the form of an optional continuing professional education course within the conference for attendees wishing to take a deeper dive into the Colloquium's subject matter. The Program requirements are: Completion of pre-course readings (3 hours); Attend Preconference I, either in person or online; Attend Colloquium either in person or online and Successful completion of the post-conference exam online. Attendees who successfully complete Program requirements will receive a certificate of completion.



TUITION SCHOLARSHIPS

The Population Health Colloquium is now offering a limited number of partial and full Tuition Scholarships to qualifying representatives of local, state and federal government, consumer advocate organizations, safety net providers, academics, students and health services research organizations.
Click here for more information.



SUPPORTED BY







MEDIA PARTNERS























FOLLOW US ON:




Tweet using #PopHealth17


THE COLLOQUIUM IS














CONTENT PURCHASING INFORMATION
Choose from the following purchase options:
Online Archive with conference content (for entire conference or individual presentations)
Flash drive with conference content