Here's Your Chance to Speak at Health Datapalooza
We are seeking your presentation ideas for the 2018 Health Datapalooza, April 26-27 in Washington, D.C. This lively, one-of-a-kind conference offers cross-sector discussions around the future of health data -- and how it's being used to challenge current practices and trigger changes in health care.

Health Datapalooza focuses on the newest, most innovative, and effective uses of health data, with an emphasis on diverse voices and perspectives -- from industry leaders to startups, public to private, academics to data liberators, patients to clinicians and everything in between.
Submission Deadline: October 10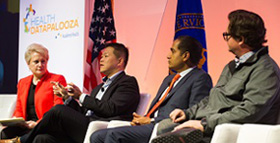 Eight Dynamic Tracks
Consumer-Facing Technologies and Digital Health: Under-tapped or Over-hyped?
Data Privacy and Cybersecurity
Life Sciences and Real World Evidence
Integrating Data Sources and Systems to Make Whole Person Health a Reality
Smart (Data) Systems in Health Care
Value-Based Systems Transformation: What it Means for and Requires of Health Systems
What Works Internationally
Wildcard - What's Your Great Idea?