There Is Still Time to Register for Health Datapalooza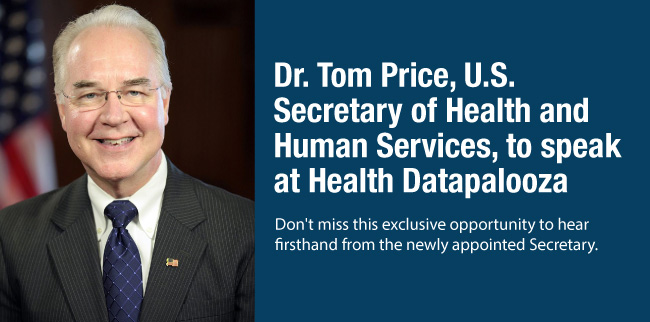 The buzz is building for this year's Health Datapalooza, April 27-28, in Washington, D.C. We are thrilled to announce that the newly appointed Secretary of the U.S. Department of Health and Human Services (HHS), Tom Price, will address the 1,000+ attendees gathering at the Datapalooza.

Secure your spot today and join a diverse and vibrant community of attendees harnessing the power of data and pioneering innovations to improve health and health care. At Health Datapalooza, you will:
Gain new knowledge on the use of health data to improve health outcomes.
Learn about the newest, most innovative and effective uses of health data.
Network with peers offering diverse voices and perspectives in the field.

Online Registration Ends April 26. Register Today and Save $100.
FOCUSED TOPICS AND DISCUSSIONS FOR ALL APPETITES:
View the Entire Agenda
From Health Care to Health: Value-Based Systems Transformation

At the intersection of AI and Human Intelligence: The Future of Health Care Delivery
Care Delivery Transformation
Analytics & Patient Decision Support
Medicaid Innovations and Delivery System Reform
Driving Quality Improvement through Accessible Data

Consumer-Facing Technologies and Digital Health

Consumer Directed Medications Data Exchange with Multiple Providers
Innovations in Consumer Engagement
Leveraging Digital Health Tools to Benefit Underserved Communities
Digital Health: Less Regulation?
Consumer Technology Ecosystems

The Promise and Challenge of Personalization and Precision

Genomic Data Movement throughout the Health System
Predictive Analytics in Health Care
NCI's Genomic Data Commons and ASCO's CancerLinQ
The Big Data-Scientist Training Enhancement Program (BD-STEP): a VA-NCI Partnership

Seeing Health from the Outside In: Multi-Sector Data Sharing

Innovations in Data Sharing
Broadening Access to Research Data in the Rehabilitation and Disability Fields
Health Systems Reaching Out to Patients and Providers
Improving Electronic Information Exchange Between Public Health and Health Care

What Works Internationally

Using Data to Drive Hospital Performance
National Implementations of Patient-Facing mHealth Applications
International Collaborations and Population Health
International Technology Ecosystems

Privacy, Security, and Consent

Getting Privacy and Security Right from the Start(up)
Using Novel Data and Data Sources to Innovate in Public Health Surveillance
Digital Health, Innovation, and Security
Patient Privacy: Blockchain, Encryption, and Synthetic Data

Register Online by April 26 and Save $100