Call for Nominations for 2017 Data Liberator Award to be Presented @ 2017 Health Datapalooza
CONTACT
Phone: 800-684-4549
Email: registration@hcconferences.com
Website: www.healthdatapalooza.org


Do you know an individual or a team that has made extraordinary contributions to the liberation of health data? If so, we want to hear from you! We are currently accepting nominations for the 2017 Health Data Liberator Award.
WHAT IS THE HEALTH DATA LIBERATOR AWARD?

The Health Data Liberator Award is given to an individual or team that has demonstrated leadership and achievement in promoting the liberation of health data, helping to accelerate the pace and volume of data available to innovators, and in turn foster the creation of products and services that will improve health and health care. Learn More.

The Award will be presented to the recipient at the 2017 Health Datapalooza on April 27-28, 2017 in Washington, D.C.

Nominations are currently being accepted for this prestigious accolade. You may nominate an individual or a team working around open health data. Nominate here.

Nomination Deadline: Friday, March 10, 2017

PAST AWARD WINNERS


Fred Trotter - Chief Executive Officer, DocGraph - 2016

Niall Brennan - Former Director and Chief Data Officer, Centers for Medicare & Medicaid Services (CMS) - 2015

Charles Ornstein - Senior Editor, ProPublica - 2014

Nirav Shah - Senior Vice President and Chief Operating Officer, Kaiser Permanente - 2013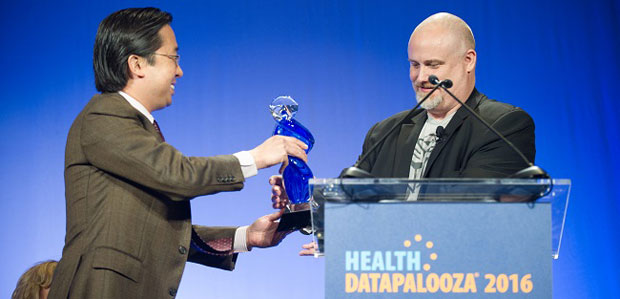 Fred Trotter, Chief Executive Officer at DocGraph receives the 2016 Health Data Liberator Award.



REGISTER FOR THE 2017 HEALTH DATAPALOOZA

The 2017 Health Datapalooza takes place April 27-28, 2017 in Washington, D.C. Join over 1,600 people from the public and private sectors to learn how health and health care can be improved by harnessing the power of data. Over the course of this action-packed conference, attendees will gain new knowledge on the use of health data to improve health outcomes, learn about the newest, most innovative and effective uses of health data, and network with peers offering diverse voices and perspectives in the field. Learn More.



Register by February 24 and save $300!
For registration information, visit http://www.academyhealth.org/node/6751, email registration@
hcconferences.com, or call 800-684-4549.
DATAPALOOZA EXHIBIT & SPONSORSHIP INFORMATION
For sponsorship and exhibit information, contact Justin Sorensen, Exhibit Manager, at (206) 452-0609 phone, (206) 319-5303 fax, or exhibits@hcconferences.com.