PRESS RELEASE: Keynoters Announced For Health 2.0's 11th Fall Conference
PRESS RELEASE
Phone: (415) 287-0740
Email: info@health2con.com
Website: www.health2con.com
WASHINGTON DC, USA -- HIT/HIPAA UPDATE NEWS SERVICE™ -- MARCH 20, 2017: We are excited to have the industry's most influencial leaders keynote our 11th Annual Fall Conference, including Sandra Hernandez, President and CEO of the California Health Care Foundation; David Brailer, Chairman of Health Evolution Summit; Aneesh Chopra, President of NavHealth; and Daniel Kraft, Founder and Chairman of Exponential Medicine!

Discover and watch hundreds of live product demos at the conference and get a first glance at companies developing new cutting-edge technologies across health care and wellness; ranging from chronic diagnosis and geo-analytics to financial management.

Topics to be covered will include the latest advancements in health technologies and the industry, perspectives from former White House tech czars on the current policies, and how health care and tech markets will be affected in the near future.

Take advantage of our early bird rates and register today! We are also offering bonus ticket combos for our upcoming technology and design focused conference, HxRefactored which takes place in Boston this June and our European Conference which takes place in Barcelona this May!

For sponsorship inquiries, please contact our Sales Director Patrick Ryan at patrick@health2con.com

KEYNOTE SPEAKERS WILL INCLUDE:

David Brailer
Chairmain, Health Evolution Summit


As a physician, researcher, entrepreneur, policymaker and investor, David Brailer has shaped the evolution of health care. His work at HEP is dedicated to building and supporting companies that will drive major change in health care services, IT, and life sciences. Prior to joining HEP, he was appointed by the Bush Administration as the first National Health IT Coordinator.


Sandra Hernandez
President and CEO, California Health Care Foundation


As a prominent public health leader, Sandra Hernandez dedicates her work to create meaningful and measurable improvements in the way the health care delivery system provides care to the people of California, particularly to low-income and underserved populations. She has also worked in several notable organizations including UCSF, SF General Hospital, Stanford, and more!


Aneesh Chopra
President, NavHealth

Leading an open data intelligence service launched by Hunch Analytics, Aneesh Chopra helps facilitate ideas that improve the productivity of health and education markets. From 2009-2012, he served as the first U.S. CTO and prior to that, as Virginia's Secretary of Tech. His public service focuses on better public/private collaboration as described in his book, "Innovative State: How New Technologies can Transform Government."


Daniel Kraft
Founder and Chair, Exponential Medicine


Trained physician-scientist, inventor, entrepreneur and innovator, Daniel Kraft has over 20 years of experience in clinical practice, biomedical research and healthcare innovation. Additionally he has multiple patents on medical devices such as MarrowMiner, immunology, and stem cell research. He has also founded IntelliMedicine, which focuses on enabling connected, data driven, and integrated personalized health & medicine.
SET STAGE AT HEALTH 2.0!
Have an innovative product or solution you want to showcase to the entire health care community?

Show us what you got! Live 3.5 minute technology demos are a major hallmark at the Health 2.0 conferences. And we do mean LIVE – no PowerPoint or video allowed! Sometimes demos are standalone, but they're often interspersed into larger panel sessions with commentators reflecting on the demo and how they believe it fits into health care.

We review submissions on a first-come, first-serve basis. If you're uncertain that your product will be completely ready at the time of the conference, let us know of your interest anyway – we like to know what's going on in the community, and it's not unusual for us to show products in early stages, too!

To learn more and apply, click here! and check out a demo video from last year's Fall Conference: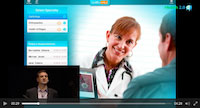 UPCOMING CONFERENCES

Now in its 7th year, HxRefactored gathers more than 600 cross-disciplinary thinkers and practitioners in one space. Through an inspired mix of thought-provoking talks, workshops, and discussions, HxRefactored applies design, science, evidence, and theory to re-imagine the entire health journey, and find new ways to actually deliver that vision.

Register today to take advantage of the early bird rates. We're also offering a special discounted combo ticket to attend the 11th Annual Fall Conference + HxRefactored!

Now in its 8th year, Health 2.0 Europe will showcase and explore the latest innovations in health care such as patient-provider communication, consumer health, genomics, data analytics, corporate wellness and more! Engage with over 120 speakers and 550 attendees from around the world to experience 52+ live product demos of innovative solutions that are shaking up European health systems.

Register today to take advantage of the early bird rates. We're also offering a special discounted combo ticket to attend the 11th Annual Fall Conference + Europe!