Press Release: Centralized Care Management Reduces Readmissions and Avoidable ED Visits in High-Risk Populations
PRESS RELEASE
Contact: Melanie Matthews
Phone: (888) 446-3530
Email: mmatthews@hin.com

SEA GIRT, NJ USA -- PAYMENT/DELIVERY SYSTEM REFORM UPDATE NEWS SERVICE™ -- DECEMBER 5, 2017: When AMITA Health set out to devise a more efficient method of moving its highest-risk Medicare beneficiaries across its care continuum, the newly minted Medicare Shared Savings Program (MSSP) accountable care organization (ACO) abandoned its siloed approach in favor of an enterprise-wide human-centric model of care.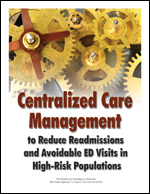 Centralized Care Management to Reduce Readmissions and Avoidable ED Visits in High-Risk Populations describes how the nine-hospital system inventoried, reexamined and revamped its care management resources, ultimately implementing a centralized care management model that would support the Institute for Healthcare Improvement's Triple Aim goals.
For more information or to order your copy today, please visit: http://store.hin.com/product.asp?itemid=5206
In this 25-page resource, AMITA Health's Susan Wickey, vice president, quality and care management, and Luke Hansen, MD, MPH, vice president and chief medical officer, population health, guide readers through their organization's care management redesign, which operates on the premise that AMITA's patients are never really discharged but only are transitioned to the most appropriate care site.
Explaining the impacts achieved by focusing on a population considered at high risk for readmission and pairing those individuals with a dedicated care coordinator, Ms. Wickey and Dr. Hansen cover the following areas:
Inventory and assessment of the roles of patient navigators, case managers, patient-centered home care managers and ACO care managers;
The health system's 11-point punch list for increasing efficiencies across the care continuum;
Criteria for determining the high-risk target Medicare population;
Essential elements of multidisciplinary, data-driven patient-centered care management;
Establishment of a centralized, patient-centric care management hub;
The role of registries in tracking chronic illness in high-risk patients;
Key results from the organization's robust care management redesign;
And much more.
Order your copy today online: http://store.hin.com/product.asp?itemid=5206

AVAILABLE IN SINGLE OR MULTI-USER LICENSES:

A multi-user license will provide you with the right to install and use this information on your company's computer network for an unlimited number of additional workstations within your organization for a one-time fee. To have this valuable resource on your network, or to inquire about ordering bulk copies in print or Adobe PDF, please e-mail sales@hin.com or call 888-446-3530.

YOU MAY ALSO BE INTERESTED IN THESE CARE MANAGEMENT RESOURCES: ABOUT THE HEALTHCARE INTELLIGENCE NETWORK:

HIN is the premier advisory service for executives seeking high-quality strategic information on the business of healthcare. For more information, contact the Healthcare Intelligence Network, PO Box 1442, Wall Township, NJ 07719-1442, (888) 446-3530, e-mail info@hin.com, or visit www.hin.com.