Press Release: A Collaborative Blueprint for Reducing SNF Readmissions: Driving Results with Quality Reporting and Performance Metrics
PRESS RELEASE
Contact: Melanie Matthews
Phone: (888) 446-3530
Email: mmatthews@hin.com
Website: http://store.hin.com/product.asp?itemid=5237
SEA GIRT, NJ USA -- PAYMENT/DELIVERY SYSTEM REFORM UPDATE NEWS SERVICE™ -- OCTOBER 17, 2017: Concerned about escalating hospital readmissions from skilled nursing facilities (SNFs) and the accompanying pinch of Medicare readmissions penalties, three Michigan healthcare organizations set competition aside to collaborate and reduce rehospitalizations from SNFs.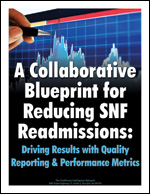 To solidify their coordinated approach, Henry Ford Health System (HFHS), the Detroit Medical Center and St. John's Providence Health System formed the Tri-County SNF Collaborative with support from the Michigan Quality Improvement Organization (MPRO).

A Collaborative Blueprint for Reducing SNF Readmissions: Driving Results with Quality Reporting and Performance Metrics examines the evolution of the Tri-County SNF Collaborative, as well as the set of clinical and quality targets and metrics with which it operates.

For more information or to order your copy today, please visit: http://store.hin.com/product.asp?itemid=5237

In this 25-page resource, Susan Craft, director, care coordination, family caregiver program, Office of Clinical Quality & Safety at Henry Ford Health System, outlines the roots, framework and results of the SNF collaborative, detailing participation requirements for the more than 130 member SNFs that were developed in tandem with the skilled nursing facilities.

MS. CRAFT PROVIDES DETAILS ON THE FOLLOWING:
Tri-County's dozen participation requirements for SNFs, ranging from regular reporting to achievement of specified performance metrics;
The 14 metrics in four key areas that participating SNFs must report through a dedicated SNF portal;
The 13-point unblinded quarterly quality scorecard with metrics that the collaborative provides to SNF participants;
Roles and responsibilities of the multidisciplinary team within Tri-County Collaborative;
The collaborative's impact on SNF readmissions, length of stay and other key benchmarks;
Improvements and advancements resulting from Tri-County Collaborative initiatives, including enhanced nurse-to-nurse handoffs and sepsis-focused interventions;
And much more.
Order your copy today online: http://store.hin.com/product.asp?itemid=5237

AVAILABLE IN SINGLE OR MULTI-USER LICENSES:

A multi-user license will provide you with the right to install and use this information on your company's computer network for an unlimited number of additional workstations within your organization for a one-time fee. To have this valuable resource on your network, or to inquire about ordering bulk copies in print or Adobe PDF, please e-mail sales@hin.com or call 888-446-3530.

YOU MAY ALSO BE INTERESTED IN THESE RESOURCES FROM HIN:: ABOUT THE HEALTHCARE INTELLIGENCE NETWORK:

HIN is the premier advisory service for executives seeking high-quality strategic information on the business of healthcare. For more information, contact the Healthcare Intelligence Network, PO Box 1442, Wall Township, NJ 07719-1442, (888) 446-3530, e-mail info@hin.com, or visit www.hin.com.