Press Release: 2017 Healthcare Benchmarks: Accountable Care Organizations
PRESS RELEASE
Contact: Melanie Matthews
Phone: (888) 446-3530
Email: mmatthews@hin.com
Website: http://store.hin.com/product.asp?itemid=5228
SEA GIRT, NJ USA -- PAYMENT/DELIVERY SYSTEM REFORM UPDATE NEWS SERVICE™ -- SEPTEMBER 14, 2017: The accountable care organization, or ACO, has become a cornerstone of healthcare delivery system and payment reform by raising the bar on healthcare quality and reducing unnecessary costs. There are now more than 700 ACOs in existence today, by a 2017 SK&A estimate.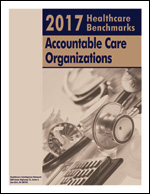 2017 Healthcare Benchmarks: Accountable Care Organizations, HIN's fifth compendium of metrics on ACOs, captures ACO operation in today's value- and quality-focused healthcare environment.

For more information or to order your copy today, please visit: http://store.hin.com/product.asp?itemid=5228

This 50-page report, now in its fifth edition, delivers actionable data from healthcare companies who completed HIN's fifth comprehensive ACO assessment in May 2017.

NEW METRICS IN THE 2017 EDITION:
Participation (current and anticipated) in emerging ACO models, including the CMS ACO Investment Model, Comprehensive ESRD Care Model, Accountable Health Communities, Medicare ACO Track 1+ Model, Medicaid-Medicare ACO, and more;
Inclusion of behavioral health providers in ACOs;
Prevalence of ACOs with 100,000 members or more;
Utilization of data analytics by ACOs;
Provision within ACOs for medication management, Medicare Chronic Care Management, and social determinants of health screenings;
Predictions on CMS proactive assignment of Medicare beneficiaries to physicians' ACO panels;
The complete August 2017 Accountable Care Organizations survey tool.
STANDARD ACO METRICS SET:

As HIN benchmarks readers and members have come to expect, 2017 Healthcare Benchmarks: Accountable Care Organizations continues to document the ways in which accountable care is transforming healthcare delivery.

In this all-new resource, 2017 Healthcare Benchmarks: Accountable Care Organizations provides sector-specific qualitative data in the following areas:
Current and planned ACOs;
Numbers of physicians participating in ACOs;
Types of providers participating in ACOs;
Principal ACO administrators;
Participation by ACO model (Medicare Shared Savings Program or MSSP, Pioneer ACO, etc.)
Populations covered by current ACOs;
Numbers of lives covered by current ACOs;
Time required for ACO development;
ACO program components, including the use of electronic health records (EHRs), patient portals, evidence-based care, and other elements;
Reimbursement models in use in ACOs;
Metrics to evaluate ACO success;
Preferred ACO quality, efficiency and satisfaction measure sets;
ROI from ACOs;
Impact of ACO model on patient and provider satisfaction, care coordination, ER and hospital utilization, population health, healthcare spend and other key indicators;
Early successes from ACOs;
Greatest challenges associated with ACO creation;
And much more.

These metrics are presented in more than 60 easy-to-follow graphs and tables.

Order your copy today online: http://store.hin.com/product.asp?itemid=5228

If you are already an HIN Healthcare Benchmark series member, then this report is FREE for you.

AVAILABLE IN SINGLE OR MULTI-USER LICENSES:

A multi-user license will provide you with the right to install and use this information on your company's computer network for an unlimited number of additional workstations within your organization for a one-time fee. To have this valuable resource on your network, or to inquire about ordering bulk copies in print or Adobe PDF, please e-mail sales@hin.com or call 888-446-3530.

YOU MAY ALSO BE INTERESTED IN THESE RESOURCES ON ACOs: ABOUT THE HEALTHCARE INTELLIGENCE NETWORK:

HIN is the premier advisory service for executives seeking high-quality strategic information on the business of healthcare. For more information, contact the Healthcare Intelligence Network, PO Box 1442, Wall Township, NJ 07719-1442, (888) 446-3530, e-mail info@hin.com, or visit www.hin.com.