Press Release: A Two-Pronged Patient Engagement Strategy: Closing Gaps in Care and Coaching Clinicians
PRESS RELEASE
Contact: Melanie Matthews
Phone: (888) 446-3530
Email: mmatthews@hin.com
Website: http://store.hin.com/product.asp?itemid=5246
SEA GIRT, NJ USA -- PAYMENT/DELIVERY SYSTEM REFORM UPDATE NEWS SERVICE™ -- AUGUST 8, 2017: Understanding the factors that cause patient disengagement is a crucial first step in improving engagement rates, critical in today's accountable healthcare systems.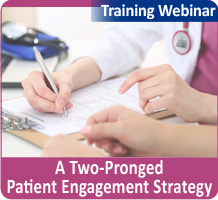 Drilling into the customer comments from its Consumer Assessment of Healthcare Providers and Systems (CAHPS®) survey helped PinnacleHealth System frame the components of its patient engagement strategy...targeting patients with gaps in care and providing information and education to clinicians throughout the system on their role in increasing engagement rates.

During A Two-Pronged Patient Engagement Strategy: Closing Gaps in Care and Coaching Clinicians, a 45-minute webinar on August 17th at 1:30 p.m. Eastern, Kathryn Shradley, director of population health, PinnacleHealth System, will share her organization's patient engagement framework, including its two-pronged approach to increase engagement rates across the health system.

Register for the webinar today or order your training DVD or CD: http://store.hin.com/product.asp?itemid=5246

YOU'LL LEARN:
How PinnacleHealth System incorporates health maintenance outreach, health coaching for non-engaged patients and its 24-hour nurse line to improve engagement rates;
About the critical role of a patient engagement coach who trains clinicians on how they can help improve patient engagement through the use of a communication rubric and role-model teach back with distinct questions to ask patients to promote patient engagement;
How scripting on health literacy and shared decision-making topics on the practice and corporate level can impact patient engagement;
The key elements of PinnacleHealth's patient engagement initiative targeted at non-engaged diabetic patients, the impact of this strategy and the next disease state target; and
How PinnacleHealth's patient engagement strategy has impacted its CAHPS® survey, CAHPS® Clinician & Group Survey and Hospital Consumer Assessment of Healthcare Providers and Systems results and clinical indicators, including A1C levels.
You can "attend" this program right in your office. It's so convenient! Invite your staff members to participate in the conference. We will send you a login to access the webinar or a DVD or CD-ROM of the conference proceedings once it's available for shipping.

You'll also have the opportunity to have all of your questions answered by Ms. Shradley during the interactive question and answer session. You'll get answers to your patient engagement questions and challenges.

To register for the conference, the on-demand re-broadcast or MP3 download file or order the training DVD or CD-ROM of A Two-Pronged Patient Engagement Strategy: Closing Gaps in Care and Coaching Clinicians, please visit: http://store.hin.com/product.asp?itemid=5246

YOU MAY ALSO BE INTERESTED IN THESE PATIENT ENGAGEMENT RESOURCES FROM THE HEALTHCARE INTELLIGENCE NETWORK: ABOUT THE HEALTHCARE INTELLIGENCE NETWORK: