Press Release: Reducing SNF Readmissions: Quality Reporting Metrics Drive Improvements
PRESS RELEASE
Contact: Melanie Matthews
Phone: (888) 446-3530
Email: mmatthews@hin.com
Website: http://store.hin.com/product.asp?itemid=5223
SEA GIRT, NJ USA -- READMISSIONS UPDATE NEWS SERVICE™ -- APRIL 27, 2017: A tri-county, skilled nursing facility (SNF) collaborative in Michigan is holding the line on hospital readmission rates for the three competitive health systems participating in the program.
Henry Ford Health System, Detroit Medical Center and St. John's Providence, along with the state's Quality Improvement Organization (QIO), MPRO, developed standardized quality reporting metrics for 130 SNFs in its market. The SNFs, in turn, enter the quality metrics into a data portal created by MPRO.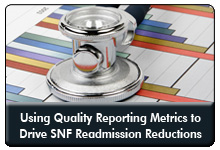 During Reducing SNF Readmissions: Quality Reporting Metrics Drive Improvements, a 45-minute webinar on May 11th at 1:30 p.m. Eastern, Susan Craft, director, care coordination, family caregiver program, Office of Clinical Quality & Safety at Henry Ford Health System, will share the key details behind this collaborative, the impact the program has had on her organization's readmission rates along with the inside details on new readmission reduction target areas born from the program's data analysis.

Register for the webinar today or order your training DVD or CD: http://store.hin.com/product.asp?itemid=5223

YOU WILL LEARN:
Which key metrics the health systems agreed to collect from the SNFs;
What process changes Henry Ford Health System has made to its inpatient-to-SNF care transitions based on findings from this quality improvement data collection effort;
Why Henry Ford Health System uses a nurse-to-nurse patient hand-off during these care transitions and the key components of this hand-off;
The leading SNF readmission diagnosis and what steps Henry Ford Health System is taking to target this patient population going forward;
The impact the SNF collaborative has had on readmission rates and lengths of stay for Henry Ford Health System; and
Henry Ford Health System's future plans to further reduce SNF readmissions, including a focus on: the end stage renal disease population and outpatient dialysis centers; interventional radiologists; outpatient transfusion services; and a pilot program to improve care transitions from SNF to ED.
You can "attend" this program right in your office. It's so convenient! Invite your staff members to participate in the conference. We will send you a login to access the webinar or a DVD or CD-ROM of the conference proceedings once it's available for shipping.

You'll also have the opportunity to have all of your questions answered by Ms. Craft during the interactive question and answer session. You'll get answers to your SNF readmission questions and challenges.

To register for the conference, the on-demand re-broadcast or MP3 download file or order the training DVD or CD-ROM of Reducing SNF Readmissions: Quality Reporting Metrics Drive Improvements, please visit: http://store.hin.com/product.asp?itemid=5223

YOU MAY ALSO BE INTERESTED IN THESE RESOURCES ON REDUCING HOSPITAL READMISSIONS FROM THE HEALTHCARE INTELLIGENCE NETWORK: ABOUT THE HEALTHCARE INTELLIGENCE NETWORK:

HIN is the premier advisory service for executives seeking high-quality strategic information on the business of healthcare. For more information, contact the Healthcare Intelligence Network, PO Box 1442, Wall Township, NJ 07719-1442, (888) 446-3530, e-mail info@hin.com, or visit www.hin.com.