Press Release: Social Health Determinants Benchmarks and Metrics
PRESS RELEASE
Contact: Melanie Matthews
Phone: (888) 446-3530
Email: mmatthews@hin.com
Website: http://store.hin.com/product.asp?itemid=5214
SEA GIRT, NJ USA -- ACCOUNTABLE CARE UPDATE NEWS SERVICE™ -- MARCH 30, 2017: Initiatives such as CMS' Accountable Health Communities Model and other population health platforms encourage healthcare organizations to tackle the broad range of social, economic and environmental factors that shape an individual's health. To underscore the need to address social determinants of health, Healthy People 2020 included "Create social and physical environments that promote good health for all" among its four overarching goals for the decade.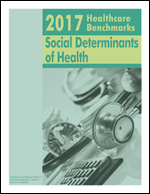 In one measure of their impact, 2015 research by Brigham Young University found that the social determinants of loneliness and social isolation are just as much a threat to longevity as obesity.
2017 Healthcare Benchmarks: Social Determinants of Health documents the efforts of healthcare organizations to assess social, economic and environmental factors in patients and to begin to redesign care management to account for these factors. These metrics are compiled from responses to the February 2017 Social Determinants of Health survey by the Healthcare Intelligence Network.

For more information or to reserve your copy today, please visit: http://store.hin.com/product.asp?itemid=5214
This 40-page report assembles hundreds of metrics on social determinants of health (SDOH) initiatives by hospitals, health plans, disease management, behavioral health providers and other responding organizations. This resource offers an exclusive look at SDOH screening tools, priority populations, key workflows, community linkages and engagement, reimbursement trends, impacts and ROI.
Breaking down findings by high-responding industry sectors, this report encompasses the following data points:
Availability of programs (existing and planned) to address SDOH;
Populations prioritized for SDOH screening;
Prevalence of SDOH screenings integrated into clinical workflows;
Opportunities to conduct SDOH screenings (e.g. Annual Medicare Wellness Visit);
Preferred SDOH screening tools;
Key SDOHs addressed during patient screening, such as nutrition, housing and social environment;
Population needs identified by SDOH screening;
Interventions available to individuals identified with SDOHs;
Community and social services linked to SDOH programs;
Primary responsibility for SDOH assessment and response;
Most effective SDOH tools, workflows and protocols;
Key challenges of SDOH screening and follow-up;
Support for Medicare reimbursement of SDOH initiatives;
Impacts and greatest successes from SDOH initiatives, including SDOH influence on clinical indicators, hospital and ER utilization, patient experience, mortality and satisfaction, reimbursement and total cost of care, and more;
The complete February 2017 Social Determinants of Health survey tool;
and much more.

Order your copy today online: http://store.hin.com/product.asp?itemid=5214

If you are already a Healthcare Benchmark series member, then this report is FREE for you.

AVAILABLE IN SINGLE OR MULTI-USER LICENSES:

A multi-user license will provide you with the right to install and use this information on your company's computer network for an unlimited number of additional workstations within your organization for a one-time fee. To have this valuable resource on your network, or to inquire about ordering bulk copies in print or Adobe PDF, please e-mail sales@hin.com or call 888-446-3530.

YOU MAY ALSO BE INTERESTED IN THESE SOCIAL HEALTH DETERMINANTS RESOURCES: ABOUT THE HEALTHCARE INTELLIGENCE NETWORK:

HIN is the premier advisory service for executives seeking high-quality strategic information on the business of healthcare. For more information, contact the Healthcare Intelligence Network, PO Box 1442, Wall Township, NJ 07719-1442, (888) 446-3530, e-mail info@hin.com, or visit www.hin.com.