Press Release: 2017 Healthcare Benchmarks: Home Visits
PRESS RELEASE
Contact: Melanie Matthews
Phone: (888) 446-3530
Email: mmatthews@hin.com
Website: http://store.hin.com/product.asp?itemid=5207
SEA GIRT, NJ USA -- MACRA UPDATE NEWS SERVICE™ -- MARCH 1, 2017: Visiting targeted patients at home, especially high utilizers and those with chronic comorbid conditions, can illuminate health-related, socioeconomic or safety determinants that might go undetected during an office visit. Increasingly, home visits have helped to reduce unplanned hospitalizations or emergency department visits by these patients.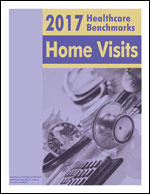 2017 Healthcare Benchmarks: Home Visits examines the latest trends in home visits for medical purposes, from populations visited to top health tasks performed in the home to results and ROI from home interventions.

For more information or to order your copy today, please visit: http://store.hin.com/product.asp?itemid=5207

This 52-page report analyzes the responses of more than 100 healthcare organizations to HIN's second comprehensive industry survey on home visits conducted in December 2016. This resource is designed to meet business and planning needs of health plans, employers, managed care organizations, physician organizations, health systems and others by providing critical benchmarks in home-based health visits.

This all-new research report is supported with dozens of graphs and tables and describes the most effective home visit strategies in use today, including challenges of home visits and the most successful home visit protocols, workflows and tools - all in respondents' own words.

NEW HOME VISITS METRICS FOR 2017:
Clinical conditions targeted to receive home visits;
Primary purpose for home visits;
Health professionals conducting home visits;
Prevalence of socioeconomic assessments conducted during visits;
Metrics to measure the effectiveness of home visits; and
Acceptance of technology and remote monitoring use in home visits.
This report provides a high-level look at overall responses and also drills down to sector-specific views in the following areas:
Availability of current and planned home visit programs;
Primary responsibility for home visits;
Risk stratification tools to determine home visit eligibility;
Essential home visit components - metrics on palliative care, falls assessment, medication reconciliation, telehealth, etc.;
Successful population health home visit strategies;
Challenges of home visits;
Most effective tools, workflows or processes to optimize home visits;
Impact of home medical visits on reimbursement, hospital and ER utilization, patient compliance and satisfaction, provider satisfaction, medication adherence, and other key metrics.
ROI from home visits;
The complete 2017 Home Visits survey tool;
and much more.

Order your copy today online: http://store.hin.com/product.asp?itemid=5207

If you are already a Healthcare Benchmark series member, then this report is FREE for you.

AVAILABLE IN SINGLE OR MULTI-USER LICENSES:

A multi-user license will provide you with the right to install and use this information on your company's computer network for an unlimited number of additional workstations within your organization for a one-time fee. To have this valuable resource on your network, or to inquire about ordering bulk copies in print or Adobe PDF, please e-mail sales@hin.com or call 888-446-3530.

YOU MAY ALSO BE INTERESTED IN THESE HOME VISIT RESOURCES: ABOUT THE HEALTHCARE INTELLIGENCE NETWORK:

HIN is the premier advisory service for executives seeking high-quality strategic information on the business of healthcare. For more information, contact the Healthcare Intelligence Network, PO Box 1442, Wall Township, NJ 07719-1442, (888) 446-3530, e-mail info@hin.com, or visit www.hin.com.