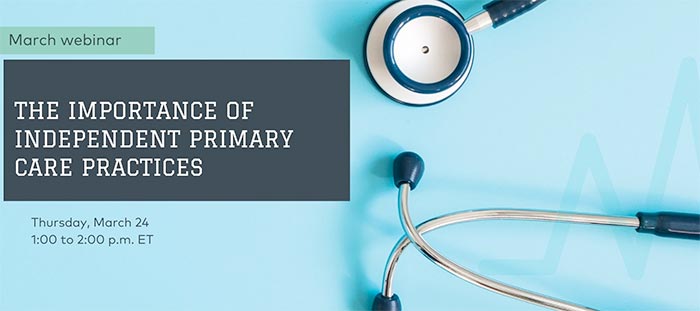 March 2022 Primary Care Collaborative Complimentary Webinar: Roundtable on the Importance of Independent Primary Care Practices
Tuesday, March 24, 2022
1:00 – 2:00 pm ET
Click here for more info
CONTACT
Contact: Stephen Padre
Phone: (202) 417-3911
Email: spadre@pcpcc.org
Website: www.pcpcc.org


WASHINGTON, DC USA -- HEALTHCARE UPDATE NEWS SERVICE™ -- MARCH 4, 2022: In a period of dynamic change in the organization and ownership of primary care practices, is it important to ensure that independent practice models remain in the care-delivery ecosystem? The committee that authored the 2021 National Academies of Sciences, Engineering, and Medicine report, Implementing High-Quality Primary Care, recognized a continued role for independent primary care practices. The committee recommended that primary care "[p]ayment should be adequate to support high-quality, independent primary care practices and flexible enough to support an emerging array of new delivery models." This roundtable discussion among leading proponents, practitioners and partners of independent primary care will discuss the important characteristics of independent practices and promising strategies to sustain them.

This webinar is made possible with generous support from The Commonwealth Fund.

Cost: free

The webinar will be recorded and available on PCC's website within 24 hours following the conclusion of the webinar.
SPEAKERS

Ann Greiner, MCP
President & Chief Executive Officer, Primary Care Collaborative

Elizabeth Mitchell
President & CEO, Purchaster Business Group on Health

L. Allen Dobson Jr., MD, FAAFP
Chairman of CCPN's Board of Managers, Community Care Physicians Network, LLC

Sean Cavanaugh
Chief Policy Officer & Chief Commercial Officer, Aledade
For bios on the speakers, click here.


FOR E-MAIL ADDRESS CHANGE, ADD OR DELETE REQUESTS:

For changes or additions, please email your request to: listmgr@HealthCareUpdateNewsService.com.
For removal of your e-mail address, please click the "SafeUnsubscribe" link located in the footer of this message below to automatically remove your address from the list.