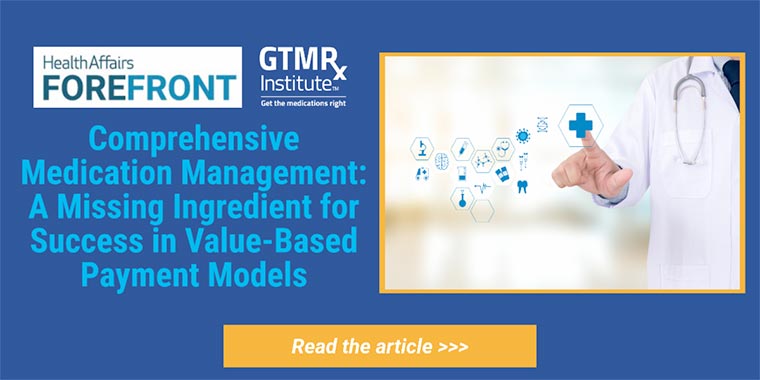 TYSONS CORNER, VA USA -- HEALTHCARE UPDATE NEWS SERVICE™ -- SEPTEMBER 9, 2022: Underappreciated CMM is the missing ingredient to value-based models Comprehensive medication management (CMM) is the missing ingredient in value-based models, but despite evidence supporting its effectiveness and value, it remains underappreciated and underutilized, a group of GTMRx leaders write in Health Affairs Forefront. They highlight the evidence for CMM, including how it supports all five elements of the Quintuple Aim-including the newest aim, health equity. Their call to action: Align on the standardized definition of CMM "to promote well-defined CMM practice standards for consistent implementation, and to promote properly resourced CMM services in value-based contracting." (Health Affairs Forefront)





The authors for this piece include:
Michael S. Barr, MD, MBA, MACP, FRCP, Executive Physician Advisor, GTMRx Institute; President & Founder, MEDIS, LLC
Curtis Haas, Pharm.D., FCCP, Chief Pharmacy Officer, University of Rochester Medical Center in New York
M. Shawn McFarland, Pharm.D., FCCP, BCACP, National Clinical Pharmacy Practice Program Manager, Clinical Pharmacy Practice Office, Pharmacy Benefits Management Services, Veterans Health Administration
Marie Smith, Pharm.D., FNAP, Henry A. Palmer Professor - Pharmacy Practice, Assistant Dean, Practice and Public Policy Partnerships, University of Connecticut School of Pharmacy
Katherine H. Capps, Co-Founder & Executive Director, GTMRx Institute
Izzy Serji, MPH, Director, Project Management and Operations, GTMRx Institute
FOR E-MAIL ADDRESS CHANGE, ADD OR DELETE REQUESTS:
For changes or additions, please email your request to: listmgr@HealthcareUpdateNewsService.com.
For removal of your e-mail address, please click the "SafeUnsubscribe" link located in the footer of this message below to automatically remove your address from the list.