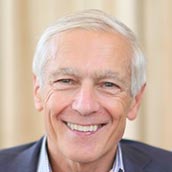 LOS ANGELES CA, USA -- HEALTHCARE UPDATE NEWS SERVICE™ -- APRIL 12, 2022: I am pleased to announce that General Wesley Clark, former NATO Supreme Allied Commander Europe, is our newest keynote speaker at the upcoming APG Annual Conference in San Diego, June 1-3. General Clark will address global geopolitics and military affairs in the wake of Russia's invasion of Ukraine, the future of NATO, and implications for the US.

We're adding new speakers and Breakout sessions each week, so bookmark the Conference website to see the latest additions to the Conference program.


SPONSORSHIP OPPORTUNITIES AVAILABLE
Is your organization interested in sponsorship at the Conference? Sponsorship gives your company valuable visibility and access to physicians and other healthcare executive decision makers in value-based care. A variety of opportunities are available, including top level Elite, Diamond, Platinum, Gold, or contributing sponsorships.

The safety of attendees is our top priority. APG will require that all Annual Conference attendees attest that they have been fully vaccinated for COVID-19 (as defined by the CDC at the time of the event) in order to receive their badges. Click here for APG's COVID-19 safety protocol.