WASHINGTON DC, USA -- HEALTHCARE UPDATE NEWS SERVICE™ -- APRIL 4, 2022: While there have been meaningful improvements in healthcare delivery over the last decade, they have not catalyzed the transformation necessary to advance health value and equity. The promulgation of health policy and the implementation of new alternative payment models have created a landscape for experimentation in value-based care, yet the seismic shift needed to facilitate long-term and sustainable improvements has yet to occur. The key enabler for the future of our industry is workforce readiness to deliver on the promise of high-value, high-quality care that delivers equitable outcomes for all.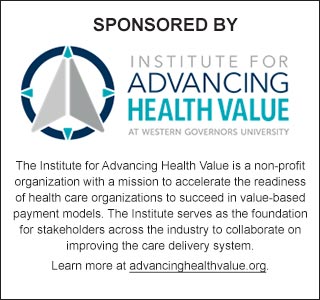 While industry experts agree that the future of healthcare lies in value-based care, there is widespread uncertainty over how to change the status quo or how to develop a workforce capable of ensuring population health, health equity and cost accountability. A value-based transformation of healthcare requires scalable and successful educational solutions. Where such solutions are often lacking in higher education, the Institute for Advancing Health Value steps into the breach.

Building upon the success of the nonprofit Accountable Care Learning Collaborative (ACLC), the largest accountable care collaborative in the world formed by former HHS Secretary Gov. Mike Leavitt and former CMS Administrator Mark McClellan, MD, PhD., the ACLC has recently rebranded to signify a new era advancement of value-based transformation through workforce development.

Building on the success of ACLC, the Institute for Advancing Health Value is committed to advancing the knowledge and competency of the health industry. We set the standard for value-based care competency with an industry-validated framework, and our educational products and value-based readiness assessments align with that competency framework. Housed at Western Governors University, we have a robust infrastructure for competency-based learning to accelerate industry readiness for success in value. As WGU continues its long-standing commitment to high quality education, positive disruption and collaboration to solve big problems, the Institute is a force multiplier in supporting the health industry in reskilling and upskilling the workforce for the future of value-based care.

Value-based care and health equity will not happen by structure alone. Policy efforts to advance APMs that realign the economics of medicine will be ineffective if the current and incoming workforce lacks the skills necessary to deliver care in that new paradigm. Reskilling and upskilling of the workforce is absolutely necessary to ensure a high-value system.

Healthcare transformation begins with the competency of the team, and workforce development is our top priority in the value-based care movement. Workforce development will drive success in value-based care by ensuring industry capability, and it will help underserved communities thrive through population health interventions that improve societal outcomes and reduce inequities.

The scale and impact of workforce skill and knowledge is either a force multiplier or an impedance for change. It is critically important to understand the new knowledge, skills and abilities needed for each role to make a shift from transaction-focused care delivery to an outcomes-based focus. By developing the specific competencies needed in quality, population health, care coordination, data analytics, governance and care delivery, we have developed comprehensive educational approaches that can prepare care teams by providing them a web of relevance for different ways of thinking.

We launched the Institute for Advancing Health Value in April 2022 in conjunction with the first enrollment of students into our new certificate programs in Value-Based Care and Population Health Equity. By creating a national competency-based standard for health value, with affordable educational pathways for reskilling and upskilling in preparing for risk-based payment, the Institute will provide impact at scale. The Institute will be known for its acumen and agility in responding to cycle needs and assembling the best thinking to guide knowledge and skill development as value-based care evolves and changes.

To learn more about how the Institute for Advancing Health Value will become the national leader in healthcare transformation in the post-pandemic health value economy, we invite you to attend our upcoming Advancing Health Value Summit on May 5. The complimentary virtual event will be focused on resilience in the new health economy and the importance of advancing value-based care through workforce empowerment and education. To register and hear from powerful speakers such as The Honorable Michael O. Leavitt, Zubin Damania, MD, (aka ZDoggMD) and Mark McClellan, MD, PhD, click here.

ABOUT THE AUTHOR
Dr. Eric Weaver is nationally-recognized for transforming primary- and value-based care. He was corporate VP for Innovista Health Solutions, where he oversaw capital investment strategy and technology adoption. Before Innovista, he was President and CEO of Texas-based Integrated ACO - one of the most successful physician-led ACOs in the country.