Press Release: Trends Shaping the Healthcare Industry in 2018: A Strategic Planning Session
PRESS RELEASE
Contact: Melanie Matthews
Phone: (888) 446-3530
Email: mmatthews@hin.com
Website: http://store.hin.com/product.asp?itemid=5271
SEA GIRT, NJ USA -- HEALTHCARE UPDATE NEWS SERVICE™ -- NOVEMBER 15, 2017: Uncertainty regarding the future of the Affordable Care Act (ACA), combined with industry market forces, including consolidations and strategic partnerships, positioning for value-based healthcare, cost containment efforts, an emphasis on technology and efforts to understand and address the whole patient as part of population health management have been key drivers in the healthcare industry this year.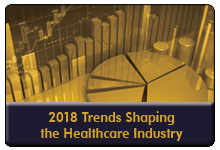 With efforts to repeal and replace the ACA now focused on eliminating the cost-sharing reduction (CSR) payments to insurers and changes to regulations governing association health plans, short-term, limited-duration insurance and health reimbursement arrangements, the healthcare industry can put aside the uncertainty of this year and move forward with the market forces in play.

During Trends Shaping the Healthcare Industry in 2018: A Strategic Planning Session, a 60-minute webinar on December 7th, two industry thought leaders, Cynthia Kilroy, principal at Cynthia Kilroy Consulting, and Brian Sanderson, managing principal, healthcare services, Crowe Horwath, will provide a roadmap to the key issues, challenges and opportunities for healthcare organizations in 2018.

Register for the webinar today or order your training DVD or CD: http://store.hin.com/product.asp?itemid=5271

PARTICIPANTS WILL GET STRATEGIC ADVICE ON:
The key trends impacting healthcare providers and payors for 2018;
How industry consolidation and fragmentation is shaping the healthcare landscape and the key value propositions for organizations looking to take advantage of these transactions;
The role of technology in healthcare including details on how artificial intelligence, blockchain, advanced analytics, robotic automation, consumer self-service through digital health and workflow tools are changing healthcare infrastructure and delivery;
What healthcare organizations can expect from the impact of the CSR payment reduction, health insurance exchange product changes, MACRA, the payors' response to MACRA and the move to value in 2018;
Where healthcare organizations can impact cost reduction strategies and improve administrative cost efficiency; and
The 2018 strategic opportunities for healthcare organizations, including consolidations, joint ventures, strategic partnerships, Medicaid managed care, Medicare Advantage, risk-based contracts and patient and health plan member advocacy models.
You can "attend" this program right in your office. It's so convenient! Invite your staff members to participate in the conference. We will send you a login to access the webinar or a DVD or CD-ROM of the conference proceedings once it's available for shipping.

You'll also have the opportunity to have all of your questions answered by Ms. Kilroy and Mr. Sanderson during the interactive question and answer session. You'll get answers to your healthcare strategic planning questions and challenges.

To register for the conference, the on-demand re-broadcast or MP3 download file or order the training DVD or CD-ROM of Trends Shaping the Healthcare Industry in 2018: A Strategic Planning Session, please visit: http://store.hin.com/product.asp?itemid=5271

YOU MAY ALSO BE INTERESTED IN THESE STRATEGIC PLANNING RESOURCES FROM THE HEALTHCARE INTELLIGENCE NETWORK: ABOUT THE HEALTHCARE INTELLIGENCE NETWORK:

HIN is the premier advisory service for executives seeking high-quality strategic information on the business of healthcare. For more information, contact the Healthcare Intelligence Network, PO Box 1442, Wall Township, NJ 07719-1442, (888) 446-3530, e-mail info@hin.com, or visit www.hin.com.