Press Release: Assessing Social Determinants of Health: Collecting and Responding to Data in the Primary Care Setting
PRESS RELEASE
Contact: Melanie Matthews
Phone: (888) 446-3530
Email: mmatthews@hin.com
Website: http://store.hin.com/product.asp?itemid=5231
SEA GIRT, NJ USA -- HEALTHCARE UPDATE NEWS SERVICE™ -- MAY 24, 2017: AllianceChicago, a collaboration founded by four federally qualified health centers (FQHCs), helped to develop the social determinants of health (SDOH) assessment tool, PRAPARE (Protocol for Responding to and Assessing Patient Assets, Risks and Experiences) and helped build the tool into the electronic health records (EHRs) to enable 38 FQHCs with the capabilities to collect SDOH data to improve care at the individual and population level.
For the past 18 months, AllianceChicago has worked with the FQHCs in their network to deploy the PRAPARE tool consistent with each center's patient population, staff resources and in-house and community support services.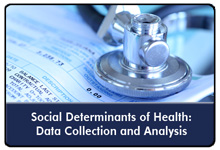 During Assessing Social Determinants of Health: Collecting and Responding to Data in the Primary Care Setting, a 45-minute webinar on June 1st at 1:30 p.m. Eastern, Andrew Hamilton, RN, BSN, MS, chief informatics officer/deputy director, AllianceChicago, will share the key learnings from AllianceChicago's SDOH work.

Register for the webinar today or order your training DVD or CD: http://store.hin.com/product.asp?itemid=5231

YOU WILL LEARN:
How organizations are collecting SDOH data...from the assessment administration format to the timing and care team members participating in the collection...as well as the challenges, data collected and opportunities of various scenarios;
What resources a healthcare provider has to have in place prior to collecting SDOH data;
Why staff training and buy-in is a critical aspect of SDOH data collection and the key training components;
How healthcare providers can react to SDOH data, including community resource referrals, healthcare action prescriptions, inclusion in longitudinal care plans and management of population health;
What technology is required to store and track SDOH data; and
The correlation of SDOH data collection and action on Hemoglobin A1C levels and asthma and blood pressure control.
You can "attend" this program right in your office. It's so convenient! Invite your staff members to participate in the conference. We will send you a login to access the webinar or a DVD or CD-ROM of the conference proceedings once it's available for shipping.

You'll also have the opportunity to have all of your questions answered by Mr. Hamilton during the interactive question and answer session. You'll get answers to your SDOH data collection and analysis questions and challenges.

To register for the conference, the on-demand re-broadcast or MP3 download file or order the training DVD or CD-ROM of Assessing Social Determinants of Health: Collecting and Responding to Data in the Primary Care Setting, please visit: http://store.hin.com/product.asp?itemid=5231

YOU MAY ALSO BE INTERESTED IN THESE RESOURCES ON SOCIAL HEALTH DETERMINANTS FROM THE HEALTHCARE INTELLIGENCE NETWORK: ABOUT THE HEALTHCARE INTELLIGENCE NETWORK:

HIN is the premier advisory service for executives seeking high-quality strategic information on the business of healthcare. For more information, contact the Healthcare Intelligence Network, PO Box 1442, Wall Township, NJ 07719-1442, (888) 446-3530, e-mail info@hin.com, or visit www.hin.com.