PRESS RELEASE:
FDA Considers Reinstating Warning Oversight to Boost Quality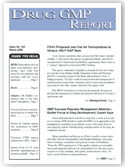 PRESS RELEASE
Contact: Jeff Grizzel
Email: jgrizzel@fdanews.com
Phone: 703-538-7668
Website: www.FDAnews.com
WASHINGTON DC, USA -- PHARMA UPDATE NEWS SERVICE™ -- AUGUST 31, 2010: Last summer, FDA Commissioner Margaret Hamburg ended an agency policy requiring prior legal review of all untitled and warning letters. To speed up enforcement action, she instructed that the Office of Chief Counsel would review only warning letters that have "significant legal issues."
Since then, warning letter quality has declined, drugmakers say, prompting the agency to evaluate the policy change.
"I have noticed what appears to be a diminution in the quality of warning letters -- issues ranging from typographical errors to lack of legal support for assertions," Jennifer Bragg, partner at Skadden, Arps, Slate, Meagher & Flom, told DGR.
In line with Hamburg's commitment to ensure that the FDA's work is factually and legally correct, the agency is evaluating the impact of the change, spokeswoman Karen Mahoney told DGR. That evaluation should be completed by the end of September.
Read the entire article (and more) in the current issue of Drug GMP Report (DGR).
And, if you order a one-year subscription (12 monthly issues) TODAY, you'll save $150 off the regular price.
In a quick but thorough read, you'll get the knowledge you need on GMP regulations, FDA enforcement trends, international regulations and more. Stay in compliance, boost efficiency and ensure profitability with the help of this invaluable monthly resource.
Each issue is packed with:
Thorough analysis and in-depth interpretation of GMPs, up-to-date warning letters and responses to them
Details of new FDA inspection hot spots
Developments in certification procedures and electronic data requirements
And more
BONUS: In every issue, you get links to additional documents that support DGR's articles, such as draft and final guidances, 483s and warning letters, proposed rules, closeout letters, full text of proposed legislation, and many others.
Why wait? Just ask for order code 0810PGC to receive your $150 discount.
FOUR EASY WAYS TO REGISTER
PHONE: Toll free (888) 838-5578 or (703) 538-7600
FAX: (703) 538-7676
MAIL: FDAnews, 300 N. Washington St., Suite 200, Falls Church, VA 22046-3431